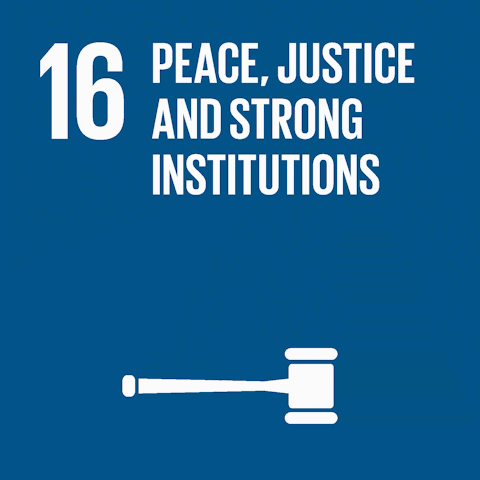 SDG 16 - Peace, Justice And Strong Institutions
Ilma University focused on SDG 16 Peace, Justice And Strong Institutions through its research findings and recommendations to establish this to its fullest. The top research publications comprised mediation, corporate governance, organizational performance and correlations. These extensive research studies indicated the amount of time and energy spent in assessing the target SDG in the vast as well as a varied field.
Events & Project
ILMA University is pleased to announce the successful conclusion of the Student Council Elections for the year 2021-2023. After an engaging and spirited election process, we are excited to introduce Mr. Muhammad Muzammil as the newly elected President of the ILMA University Student Council.

The Student Council Elections at ILMA University provide students with a valuable opportunity to engage in the democratic process and elect representatives who will advocate for their needs and ideas.

Mr. Muhammad Muzammil's victory in the presidential race reflects the confidence and support of the student body. His commitment to improving the university experience and representing the student community has been evident throughout the campaign.

ILMA University extends its warmest congratulations to Mr. Muhammad Muzammil and all the elected candidates who will hold various positions within the Student Council. We also commend the active participation of all students who took part in this important process.

The Student Council plays a pivotal role in enhancing the academic and extracurricular environment of our university, and the newly elected representatives will work collaboratively to make a positive impact on the ILMA community.
On July 17, 2022, ILMA University organized a workshop on crime, corruption, and bribery to promote Sustainable Development Goal (SDG) 16, which calls for peace, justice, and strong institutions. The workshop brought together experts from academia, government, and the private sector to discuss the challenges and opportunities in addressing these issues in Pakistan.

"Crime, corruption, and bribery are major obstacles to sustainable development in Pakistan," said Dr. Mansoor uz Zafar Dawood, Vice Chancellor of ILMA University. "They undermine economic growth, erode public trust, and perpetuate inequality. This workshop is an important step in raising awareness of these issues and developing solutions to address them."

The workshop covered a range of topics, including the definition and scope of crime, corruption, and bribery; their impact on Pakistan's economy and society; and strategies for prevention and detection. Participants also discussed the role of civil society, the media, and the private sector in promoting peace, justice, and strong institutions.

The workshop was a valuable opportunity for participants to learn from each other and share ideas on how to address crime, corruption, and bribery in Pakistan. It is hoped that the workshop will contribute to the development of effective strategies to promote SDG 16 and build a more peaceful and just society for all.
In a significant meeting, ILMA University's Honorable Chancellor, Mr. Noman Abid Lakhani (T.I.), engaged with Air Vice Marshal Zaeem Afzal, Southern Command, Pakistan Air Force. The discussion centered on ILMA University's contribution to Pakistan's socio-economic development and shared interests to enhance student welfare. A university memento was presented to Air Vice Marshal to commemorate the occasion.
A delegation from ILMA University paid a visit to the Cantonment Board Clifton (CBC) office on April 20, 2022, to discuss avenues for promoting higher education and fostering a spirit of learning among CBC officers and their children. The meeting, held at the CBC office, also included a tour of the newly constructed state-of-the-art buildings designed to enhance customer facilitation through digital infrastructure. Led by Mr. Muhammad Saleem Hassan Wattoo, Cantonment Executive Officer, the meeting provided an opportunity for both ILMA University and CBC representatives to engage in a productive dialogue aimed at strengthening collaboration between the two institutions. The discussions revolved around the potential initiatives and programs that could be developed to support the higher education aspirations of CBC officers and their families.
Honorable Chancellor of Ilma University, Mr. Noman Abid Lakhani (T.I.), held a productive meeting with Station Commander Brigadier Abid Ali Askari to explore opportunities for collaboration and discuss Ilma University's vital role in contributing to the Socio-Economic Development of Pakistan. The meeting took place at a mutual rendezvous, reflecting the commitment of both institutions towards fostering meaningful partnerships. During the meeting, Chancellor Noman Abid Lakhani expressed his vision for Ilma University's active involvement in initiatives aimed at driving positive social and economic change in Pakistan. The discussions revolved around identifying areas of mutual interest where Ilma University's expertise and resources can be effectively harnessed for the betterment of society.
In a significant step towards fostering international partnerships, Honorable Chancellor of Ilma University, Mr. Noman Abid Lakhani (T.I.), engaged in a productive meeting with the Consulate General of France, Mr. Christian Testot. The discussions centered around the pivotal role of Ilma University in contributing to the Socio-Economic Development of Pakistan and identifying areas of mutual interest for collaboration. During the meeting, Chancellor Noman Abid Lakhani shared his vision for Ilma University's active involvement in initiatives that drive positive societal impact and economic growth within Pakistan. Both parties explored avenues where Ilma University's expertise and resources can align with the goals of the Consulate General of France.
Policies
Aim The purpose of this document is to lay forth the terms of academic freedom for faculty members. Academic freedom refers to the climate created by the University to allow faculty members to pursue their intellectual interests in teaching, research, and other related activities at institutions of higher education. Academic freedom therefore encapsulates the circumstances required for the University to achieve its goal of producing new knowledge and successfully disseminating acquired information and understanding to students and the general public.

Scope of Policy
This policy is applicable to all faculty members and students of Ilma University.

Policy Statement
All Academic staff and students have the freedom to engage in intellectual research, express their thoughts and beliefs, and participate in public discussion about their areas of study and research.
Faculty members are free to speak or publish on any topic, as a citizen, he or she is not subject to any institutional restriction.
No restriction on students to participate in student societies or associations.
All academic staff's freedom to teach, discuss, and research, as well as disseminate and publish the results of their research, without any hindrance from scholarly consensus or institutional policy, but subject to law abiding expression and scholarly standards
All academic staff and faculty members can join professional or representative academic groups without any restriction.
Aim
This policy aims at providing guidelines for engaging with the stakeholders of the University. This policy recognizes the University's commitment to ensure a systematic and effective stakeholder engagement.

Scope of Policy
This policy will be applied to all relevant staff members of the University.

Policy Statement
The University's goal, vision, and strategic plan must be reflected through all stakeholder engagement activities.
Stakeholders' skills, perspectives, and requirements should be acknowledged and respected.
Participation and comments from stakeholders should be appreciated and acted upon as soon as possible.
Engagement efforts should be meaningful and conveyed to stakeholders in a clear and concise manner.
The outcomes of assessment activities and surveys, as well as other information derived from the engagement process, should be open and honest.
Stakeholders' skills, perspectives, and requirements should be acknowledged and respected.

Stakeholders Identification
University management will identify those stakeholders who have certain interest in the impact of any of the University activities. Further, Identify who among the stakeholders can be have positive impact on any of the University's activity or who among them are the most affected by University's activities.

Stakeholders of the University may fall into (but not limited to) are:
• Federal or Provincial Government
• Private organisations
• Alumni, Students, Prospective Students.
• Administrative & Academic Staff
• Local Community & General Public.
• Press and Media

Engaging with Stakeholders
Management must have a communication plan to ensure a clear communication to the stakeholders about all relevant activities. Bilateral sessions must be planned in order take the valuable advice of knowledgeable stakeholders.

Definition
Stakeholder: Any individual, group or organisation who has a vested interest in the outcome of a certain University's effort.
Engagement: activities that the University undertakes to involve stakeholders in the University's effort.
Aim
The purpose of this policy is to recognize the responsibilities of University, and people of Ilma University to uphold the University's position on any kind of corruption and bribery. This policy provides the information about identifying and dealing with bribery and corruption related cases.

Scope of Police
This policy will be applied to all staff and faculty member of Ilma University.

Policy Statement
i. The management, faculty and staff members shall not accept anything of value like loan, service, business or professional opportunity from anyone knowing that it is offered in order to improperly influence the performance of their duties, or when acceptance thereof may reasonably be perceived as an impropriety in violation of ILMA policy.
ii. Staff members shall also not accept gifts if it could be reasonably seen as an inducement to act in a particular way, or to place a staff member under an obligation that may either directly or indirectly compromise or influence them in their official capacity.
iii. However, the staff members may accept ceremonial gifts or tokens of appreciation and may retain them as personal property.
iv. Employees shall have a duty to report any act or situation that may be suspected as fraudulent or corrupt as soon as they are aware of these circumstances. If any staff member believes that a person is involved in fraudulent or corrupt activities, they shall follow the University's normal channels for reporting misconduct.
v. All financial matters, including cash receipts, contracts, purchase orders and reimbursements for travel and entertainment expenses shall be transacted according to policies that have been established; and shall be undertaken only by authorized personnel and, when competitive principles apply, decisions shall be made impartially and objectively in accordance with established policy and procedure.